Being in the cash counting business, we hear a lot about cash. We read about it, we research it, we study it, but most of all we hear others' opinions and perceptions about it. Many times these perceptions we are given are not completely accurate. Sure, mobile payments are huge these days, people seem to be carrying less cash, and we hear constantly that retailers don't get enough cash to warrant a cash counter. But, how much of this is really affecting your cash handling procedures? We've come up with the TOP 5 CASH HANDLING MYTHS to watch out for to make sure you aren't losing time and money by believing a myth. Ask yoursef, is your cash counting process currently costing you money?
MYTH 1: MOST RETAIL TRANSACTIONS ARE CASHLESS
Currently, cash represents 85% of global retail transactions
We do see that quick service restaurants have the highest amount of cash usage, but 85% of global retail transactions remain in cash and that number doesn't seem to be decreasing.  The reality is that the percentage varies by country and socio-economic groupings within a country. In the U.S., last year seemed to be the year of credit card fraud and hacks, which many studies are saying are leading more people to stay with the tried and true cash. Also, studies that young people are steering away from credit cards have been released, saying that 36% of millennials in the U.S. have never even signed up for a credit card.  Seems to us that cash use is on the rise and will continue that way with future generations.
MYTH 2: SMALL DISCREPANCIES IN OUR COUNTS & DESPOSITS DON'T COST ME ENOUGH TO BE AN ISSUE
Administrative and non-crime losses, including accounting mistakes accounted for 10.8% of all retail shrink in 2013-2104.
Many operations and loss prevention executives are unaware of the costs associated with small non-intentional errors in bank deposits and cash counts. These small bank fees along with the small over and short allowances that many businesses allow can really add up over time.
MYTH 3: THEFT FROM MY EMPLOYEES IS NOT SOMETHING WE HAVE TO WORRY ABOUT
Employee theft accounted for 42.9% of lost revenue in the U.S. in 2013-2014
Employee theft is something we don't like to talk about because we believe that on a whole, people are honest and that you trust your employees to not be stealing from you. But, often the results tell us otherwise. If 42.9% of loss in the U.S is from internal theft, then accountability in your cash processes and loss prevention efforts need to be in place in case there is something going on within your business.
*Keep an eye out for our upcoming white paper – Cover your Assets, a guide to common scams that effect your business.
MYTH 4: THE MOST EFFECTIVE WAY TO COUNT CASH IS BY HAND
According to a recent survey Tellermate conducted with 169 retail executives: 43% believe electronic cash counters are the most effective way to count bills & coins at the point of sale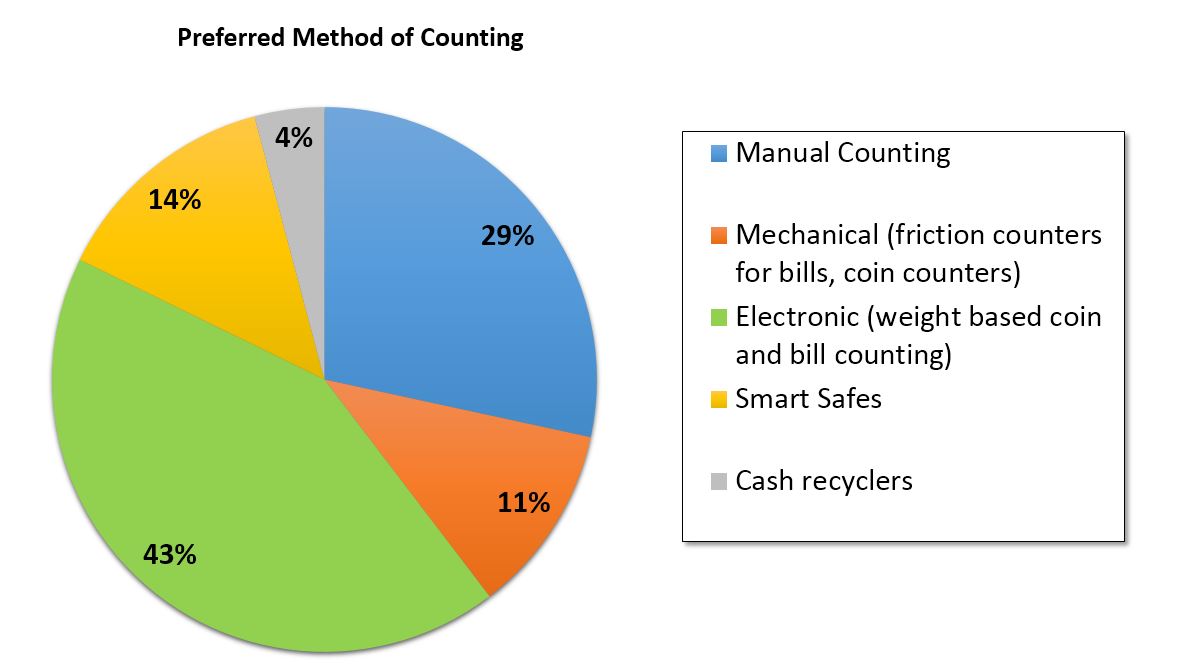 * Learn more about weight based cash counters in our upcoming eBook on the topic.
MYTH 5: IT DOESN'T TAKE THAT LONG TO COUNT OUR CASH, I DON'T NEED TO INVEST IN CASH COUNTING TECHNOLOGY
Think about the number of times you count bills and coins a day…
Do you count the drawer at the beginning and end of the day? Do you count the drawer during shift changes? Do you have a safe for deposits that needs to be counted? Do you perform spot audits throughout the day? Do you refill an ATM?
You may be spending more time than you think counting cash. If counting coins and bills by hand, a good part of your employees' day could be spent counting cash. This takes managers and employees away from other important tasks throughout the day and most importantly, keeps them out of sight of customers, where they could be increasing sales and loyalty.
Cash management tools could decrease the time spent counting cash by 70% and give you an ROI in 6 months! Tellermate helps you optimize your cash handling practices by providing fast and accurate ways to count and manage cash.