Recently we have been talking about weight-based cash counters, like Tellermate's T-iXrange, and the benefits they have. For example, they can be of benefit to any business that needs to cut down on the time they spend counting cash and any business looking for more accurate counts.
For those of you who already have a Tellermate weight-based cash counter, we thought it would be a great idea to share with you some tips on how to get more out of your investment. That's why we've put together 10 tips on how to get more out of your Tellermate cash counters.
Tip #1: Service Support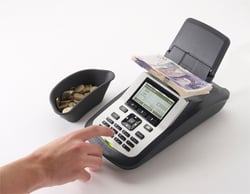 All Tellermate cash counters come with a standard warranty, or you may want to opt to cover your machines with one of our 3 Tellercover options that give you added extras. But, regardless of whether you are covered or not, the support that you can get from our great customer support team certainly stays the same. Our people know all there is to know about your cash counter and are on hand when you need them if you are confused about how something works or if you have any sort of question. They are even multi-lingual – they can support you in English, French, Spanish or German.
Tip #2: Counting your coins
We all know that counting coins by hand is an absolute nightmare. Hands up if you have to count them at least 3 times over to get a matching figure. It really is a time wasting exercise! A Tellermate cash counter will totally eliminate the need to recount and in turn, give you your time back! That is if you are using it correctly. Like all machines though, there is a human element to our cash counters and there are guidelines that must be followed. Many perceived "errors" in counting are really human issues, such as putting a cup of pennies on the money platform when the screen on the cash counter is asking for 50 pence. If you think you have a counting issue, our support team troubleshoot these issues over the phone to get to the bottom of the problem. Just give support a call and most issues can be solved in a matter of minutes.
Tip #3: Tellercup or Coin scoop
To count coins on your Tellermate a specific cup made by Tellermate is needed. The weight of these cups are calibrated out of your count, so that only the coins inside the cup are counted.  Your Tellermate comes with a Z160 Cup, which is a larger cup that is not put in your tills or Tellercups, that fit in each coin section of your till.  To make your coin counting easier, Tellermate has almost 40 different sizes and styles of cups (Tellercups) to fit your tills.Odds are that there is one size that will fit into coin sections of your cash drawer or till.  By lifting the cup out of the cash till and placing it on the money platform of your T-iX, you will be able to count all the coins in all the cups in just a few seconds.  The greatest time savings are achieved by using the Tellercups, as there are cups for each denomination of coin, allowing for a fast and easy count through your coins.
A tip to ensure that you get the best count possible is to remember not to leave a Tellercup full of coins, pens or any other items on the money platform when you are not using the money counter as it can lead to accuracy issues.
Tip #4: Calls to our Customer Support Team
Ever been too afraid to call a number because you are worried about the cost? If a Tellermate user has an issue with their Tellermate, some would rather try and get by without their little cash counting life saver because they don't want to pay through the nose for a call. We are a global company with 6 corporate locations and the U.K and U.S have dedicated customer service teams to support all your needs. If you are calling our UK team from anywhere in Europe, your call is not pricey either. In both Germany and France, calls are directed to the UK but are charged at the country's local rate. The same applies for Spain but in this instance the call is to a free phone number. Fear not, just give us a call!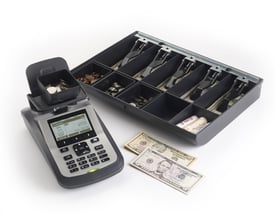 Tip #5: A lifeless Tellermate is a sad Tellermate
Can you believe that some customers revert to counting cash by hand because their cash counting buddy has been hurt? A lifeless Tellermate can be left collecting dust on a back office shelf but it really doesn't have to be this way.  Don't be afraid to give us a call if your Tellermate does not defy gravity. Trust us! Accidents happen. We have a number of tricks up our sleeve to get life back into your cash counter. We can often revive it over the phone. If that doesn't work, you can send it back to us and we can either repair it or send you a new one. If you have gone that extra mile and are covered by Tellercover, a certain number of machines are covered against accidental damage and you can get free replacements. Problem solved.
Learn more about our customer service programs.
Tip #6: Different users, different outcomes
We all do things differently. With a Tellermate, a more uniform cash counting process gives more uniform results, in fact a main benefit of our cash counters is that they can drive adhereance to process, by giving every employee the same process of handling cash.  But, we still know that all people are different and things like where a count takes place or the side of the desk that a counter is placed could differ per user. So to get the most accurate counts out of your cash counter, make sure that the surface that you put it on is flat and stable. Keep your machine away from ventilation devices too as this could well have an effect on your cash count figures.
Tip #7: What goes on top?
When putting notes on your Tellermate cash counter, the machine will tell you if it has an issue with what you put on and will sometimes ask you to remove notes during your count. To optimise accuracy and time, we'd say that it's a good idea to add to your stack of notes on the money platform in small increments. All notes are different; some have been damaged, some have increased weight due to humidity and our counters are sensitive to these things. By placing the small increments of notes on the money platform at a time you are ensuring you are getting an accurate count, as the cash counter is taking into account the discrepancies due to the weight differences in the notes from dirt or age.
With the introduction of banknotes reach the UK, they will be far more uniform than our current paper notes so you can add more notes on at once.
Tellermate cash counters are known for their durability. And why fix something that isn't broken? But when companies do decide to move from our TY and TY+ models onto our newest models, we know change can be daunting and off-putting. Employees resist change and cash counters gather dust. The truth of the matter is that our T-iX range may look a little different but they are so simple to use. You pretty much switch it on and are guided through a count with easy navigation screen prompts. You only need to spend a few minutes playing around with it to see how easy it is. We are always on hand should your employees need more support with the new machines. Tellermate can create bespoke training videos to demonstrate the simplicity of the T-iX. Change is good.
Learn more about our T-iX range of of cash counters.
Tip #9: No time to call
Cash heavy environments are busy places and not everyone has time to give us a call to get help when they are experiencing difficulty. Some simply prefer other means of communication, dont worry we have those too!  We have a 'Live Chat' section on our homepage or if you'd rather fill out a 'contact us' form for us to call you back, then that's possible too. We want to help, and know any time your cash counter is down can cause stress, so reach out to us through one of these ways so we can quickly get back to you to help solve your issue.
Tip #10: What goes on must come off
To make sure that your cash is being counted accurately, you need to make sure that you or whoever counts the takings is going about it the right way. Our counters are  precise; so much so that if you put a wad of notes on the money platform, got your count total and then removed one single note, the counter would know and adjust the count total to subtract the missing amount. Once the cash on the platform has been counted, it's important for accuracy that everything is removed at the same time before moving on to the next denomination. If you don't, then your counter will deduct the amounts you take off, giving you an inaccurate figure.
We hope we've covered all of the bases on how to get the most out of your trusted cash counting partner. But if you do have any more questions, get in touch with our Customer Service Team, who will be happy to help you.